SOUNDkitchen are very pleased to be welcoming three new artists to our SONICpicnic on the 29th July, as part of our evening line up.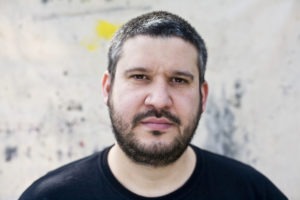 Rodrigo Constanzo will be performing a live set of improvised music using his drums+electronics setup. His setup has evolved into what it is today through seven years of experimenting with DIY and lo-fi electronics in the context of an acoustic drum-set. The setup began with a three-piece, nearly child's sized, acoustic drum-set, to which Rodrigo has added a DIY three-tiered zither-like instrument, 'electronic whisks', circuit-bent toys and drum machines, an 8-bit sampler/looper, and a myriad of acoustic bric-a-brac. The outcome is an expressive tool for electroacoustic improvisation that is continually evolving.
Listen to this track for a flavour of Rodrigo's work:
Rodrigo Constanzo – Baby Is Not (A Baby Mix) by SOUNDkitchenuk
Also on the menu is Panos Amelides an electroacustic composer and member of Leicester based artist collective Hear This Space. Our SONICpicnic listening room will feature a fantastic 16 channel speaker tree, kindly lent to us by Hear This Space.  It will be spatialising work from a range of artists throughout the event.
Panos will be giving us a live dj-like performance with live sound manipulation of traditional Greek songs using laptop and controller. The performance will be devided into three parts reflecting the content and mood of the songs. The three parts will be: a. Death, b. Love, c. Immigration.
Listen to one of Panos's works on soundcloud:
Emmersive Environments (2011) by panosamelidis
The third new artist to welcome to SOUNDkitchen is Midlands based Alex Botten who performs under the moniker Thee Moths. Alex will be improvising on his customised instruments and electronics to combine vocal layers and synths and may call for some audience participation!
Here's a souncloud recording of one of his improvs: