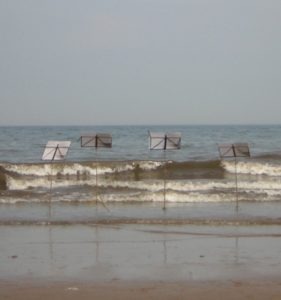 Iain Armstrong is a composer and sound artist based in Birmingham, UK. Working almost exclusively with recordings of the sound environment, he aims to expose the inherent musicality of this material through reduced listening, digital manipulation and the act of composition and performance. His work explores the interplay of abstract musical ideas and the associations and resonances of recognisable sounds.
Iain creates works for fixed media that are presented in the UK and internationally including recently at: Klang! Electroacoustique, Montpellier, France; New Adventures In Sound Art &Toronto Electroacoustic Symposium, Canada; Electric Spring, Huddersfield, England; Sonorities Festival, Belfast, Northern Ireland; Khoj International Artists Association, Delhi, India; Urban Observatory Festival, Torun, Poland; Supersonic Festival, Birmingham, England. His work spans acousmatic concert music, sound design for theatre and visual media, multi-channel sound installation and live electroacoustic performance.
Iain is one half of the performing and composing duo Anvil & Stirrup with Antti Sakari Saario. He also performs live laptop with SOUNDkitchen collective and as a solo artist.
His album of field recordings of sacred sounds and places entitled 'Sacred & Profane' is released on Gruenrekorder.
Iain has taught music and composition at the University of Birmingham, University College Northampton and is an experienced project leader in schools and community settings. He is a co-director of SOUNDkitchen.