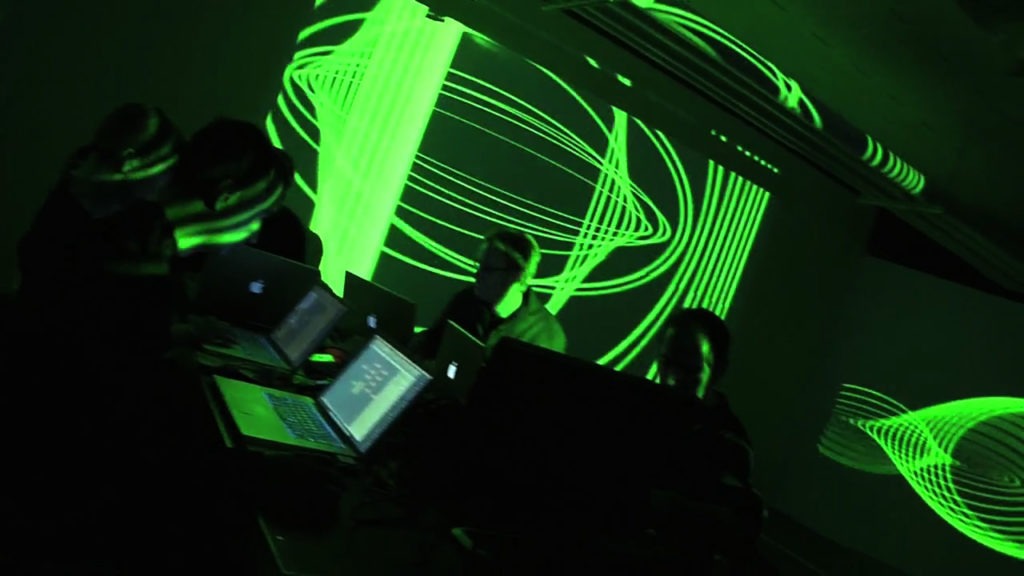 Modulate members: Bobby Bird, Scylla Magda, Mark Harris, Mark Bunegar, Joseph Potts
Modulate came first came together in 2001 through a shared interest in
electronic music and abstract art. Two of the members previously ran
an experimental live electronic music club called Oscillate throughout
the 90's. During this period Bobby Bird also released a series of
albums as Higher Intelligence Agency.
Over the years Modulate's output has had three main strands: curating
and producing events / projects, developing their own audio and audio-visual
compositions /performances, and creating multi speaker sound
installations. A concurrent theme has been an interest in modulating
spaces, and in creating abstract symbolic realms of sound and
audio-visual communication /expression.
In 2006 they released 'Modulate 5.1',  an audio visual DVD for home
cinema listening/viewing, and went on to perform live AV sets at a
number of festivals, including CoCart Festival Poland,
A Thing About Machines, Coventry, Shambala Festival, and Flatpack
Festival Birmingham.
In 2007/2008 Modulate occupied a warehouse space in Birmingham, where
they curated and produced a
series of 'Sonic Culture Salons' hosting performances and talks by
sound and visual artists including Francisco Lopez (SP),
Skiff++(NL/US), Frank Bretschneider,(DL) and Solu (FN), as well as
hosting a three month residency by New Zeeland artist Damian Frey. In
2009 Francisco Lopez returned to work with Modulate, directing the
project Birmingham Sound Matter, culminating in a performance live
concert at Ikon Eastside, and a DVD
release on Audiobulb Records.
Sound installations, by Modulate member Bobby Bird, have
included the 'Modulate Sound Cafe' a fourteen speaker sound
installation in a yurt, recapturing the sonic memories of growing up
in a cafe, 'Purpose Built', an exploration of sound as a by-product in
the making of hand built Black Taxi Cabs in Coventry, and 'The Sonic
Circle', a resonating frequency space set in a woodland glade.
Modulate member Mark Harris released a CD of his own work,  'The Boy
Observes the Ocean', on Hibernate records in 2010
www.modulate.org.uk
www.soundcloud.com/modulate_org
http://www.vimeo.com/modulate
http://modulateav.wordpress.com