SOUNDwalk: Cut & Fade
Location: Bearwood Road, Smethwick, B66
Duration: 60 minutes
Cut & Fade is a site-specific soundwalk in Smethwick that is hosted on our SOUNDwalker app. It was commissioned by Multistory and launched on 5th June 2019 at Blast! Festival.
Bearwood sits right on the border between Birmingham and Smethwick and the centre of this community is the local high street, Bearwood Road. Along the Bearwood Road we discovered a high density of barbers and hairdressers serving the diverse local population. Hair salons are an essential part of any community and provide a space for conversations that reveal glimpses into people's lives. Our soundwalk presents a series of sonic portraits of the people who work in and frequent these businesses. Using the SOUNDwalker map and GPS, walkers are invited to visit each salon where audio tracks will transport them inside to hear the activity and everyday conversations of clients and staff tending to their hair and beauty routines.
To experience this location based walk download the SOUNDwalker app to your smartphone. Travel to Bearwood Road, open the app and select the Cut & Fade walk from the menu. Plug in your headphones and use the map to navigate to the hairdresser and barbers where the GPS triggered audio tracks will begin to play. Available for iOS and Android.
Bearwood is well served by buses from Birmingham and Sandwell. The walk is conveniently located near bus routes with stops on Bearwood Road, Three Shires Oak Road (Bear Tavern) and Hagley Road (Bearwood Bus Station / Kings Head Pub).
Blast! Festival Event
On Saturday 22 June 2019 at 10:30 and 11:00 am we will be hosting Cut & Fade guided walks. This is an opportunity to experience the walk in a group and have the chance to meet artists Iain Armstrong and Annie Mahtani who created the soundwalk. The walk lasts approximately 1 hr. Following each walk we'll return to Why Not Coffee for a cuppa and informal chat.
If you'd like to join us on one of these walks please book your free place here :
Cut & Fade Tickets 10:30am
Cut & Fade Tickets 11:00am
Cut & Fade was commissioned by Multistory for Blast! Festival of photography, walks and talks. Blast! is a festival like no other - made with and for the people of Sandwell - running from Friday 24 May - Saturday 29 June 2019.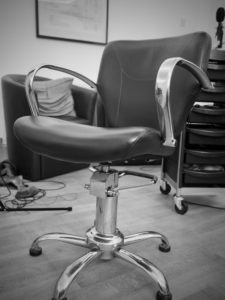 Teaser - Tarjah and Chris
Have a listen to this teaser featuring Tarjah and Chris. Tarjah used to run the Sezer Antonio salon and now works from home. Here she is chatting to one of her regular clients Chris.
Thank you to all the participants who contributed to this project:
Adhara Hair & Beauty
Davinder Kaur, Saba Asfar, Linda Anderson, Kayleigh Anderson, Linda Parastaeva.
DD Empire
Didi Gouthon, Medea Middleton, Pauline
Heads Hair Co.
Chris Davis, Barbara Eastwood, Lynda Garvey, Kate Langstaff, Zoe Mason, Niamh Morgan, Victoria Saville.
Kingz Cutz
Hoshmand Sharef, Bahroz Azi, Chad Brockhouse, Amo Singh
Sonia's at Cutz Above
Sonia Chapman, Paulette Cutler, Jacinta Eaton, Wendy Glasgow
Tarjah Warner
Tarjah Warner, Chris Gregory
Art work design
Mark Murphy